We also ship our yummy treats! Look for the Shipping icon  on our 
 pages as your browse the website and Contact Us for shipping details & to place an order!
Buy Online & Ship Anywhere - Purchase custom fondant decoration, cake pops, pie pops, Chocolate-covered Oreos & desserts on my Etsy shop!  
 While we get our new website up and running, please email me directly at [email protected] or call at (540) 692-1406 for questions & inquiries! Look forward to working with you :) Thank you!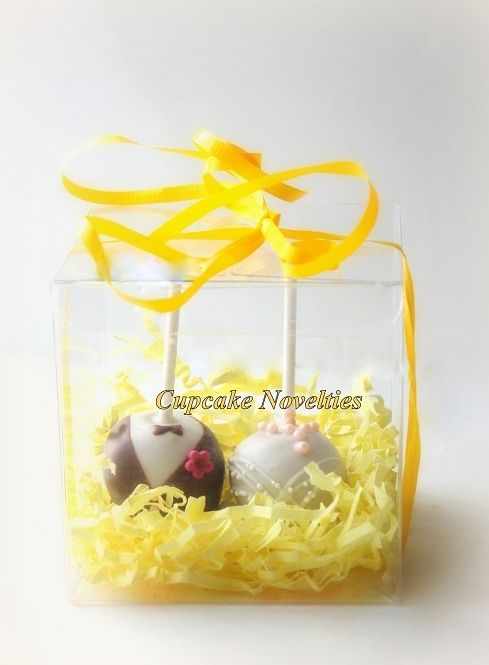 Bride & Groom Cake Pops make unique & yummy edible wedding favors! Can be customized to your wedding colors  
Winner of WeddingWire Bride's Choice Awards 2013 & WeddingWire Couple's Choice Awards 2014 for the second consecutive year! 
Cupcake Novelties was recently chosen by the Editorial of Virginia Living Magazine as one of the Top Wedding Vendors of 2013 as well as 2014 for the second consecutive year!
More info - https://www.facebook.com/259953097369109/posts/489978021033281 
Cupcake Novelties wins 2 awards at The Red Wagon Ministry Cupcake Challenge 2012 for our Rock-A-Bye Baby Cupcake!
- Best Cupcake Award in the  Garden Category
- People's Choice/Audience Favorite Award
Try our award winning flavor combination! Orange-scented Cupcake with Chocolate Cardamom filling and White Chocolate Buttercream frosting
Ask us about our Vegan, Vegetarian & Fat Free cakes, cupcakes, cake pops, cookies & treats!! 
Read about Cupcake Novelties in the Frederick County Report and The Winchester Star 
We were featured on 'Chester Magazine - check it out!  
Read about us on The 'Doah - Shenandoah University's newspaper!
Our unique Cake Pop Wreath was featured on Associa Living! 
 Our Current Specials!!
***Free 6 inch Smash Cake with all 1st birthday orders***  
*** Introducing Cheesecake Cupcakes! Check out the flavors!***  
*** Try our new Pie Pops today! *** 
*** Introducing Custom Chocolate-Covered Oreos & COOKIE CAKES!!*** 
*** Looking for a fun & yummy way to raise money for your school? We now support Cupcake/Cake Pop School Fundraisers! Contact Us for more details! *** 
While we update our website, please check out more pictures of our recent work on our Facebook page at www.facebook.com/cupcakenovelties
Cupcakes decorated as Daffodils, Pansies, Roses & Cherry Blossoms - Perfect for Spring/Summer/Mother's Day! 
(Can also be arranged in a Cupcake Bouquet) 
Looking for the ideal picnic snack/dessert? Try our Cupcake Kabobs which include yummy frosted cupcakes, marshmallows, Rice Krispie Treats & Strawberries - perfect combo of fruit, candy and cake!
Check out our Cheesecake Cupcakes! Fluffy luscious cheesecake on a buttery graham cracker crust in your choice of flavors! 
 Raspberry Cheesecake, Lemon Cheesecake, Mango Cheesecake and Vanilla Cheesecake topped with Chocolate Ganache
 Introducing Chocolate Covered Oreos/Peanut Butter Ritz & Decorated Sugar Cookies!
Dallas Cowboys themed Chocolate covered Oreos Cookies Gift Box! 
 A Cupcake Roses Bouquet for a Get Well Soon gift
Looking for the perfect Wedding favors or Bridal Shower favors?
You can also use our Wedding Cake Cake Pops & Bride and Groom Cake Pops as unique Place cards for your dinner table!  
Thank you for visiting Cupcake Novelties where cupcakes are dressed up in unique ways, presenting you with new ideas for serving cupcakes, cakes, cake pops and treats at birthday parties, anniversaries, bridal showers, baby showers, holiday parties and corporate events. Our novelty cupcakes, cake pops and cakes make great gifts for Mothers Day, Fathers Day and the Holidays (Have a look at our new Holiday Gift Boxes!!).
We are a custom cake & cupcake boutique serving made-from-scratch yummy treats from a pet-free and smoke-free, licensed kitchen.

All our treats are custom, handmade and prepared from scratch - you won't find cake mixes or synthetic artificial ingredients in our kitchen!

Choose from 

* Custom Cakes, Cupcakes & Cake Pops,
* Cheesecakes & Cheesecake Cupcakes
* Pies, Pie Pops (yummy pies on a stick), Pies in a Jar & Cupcakes in a Jar, 
* Decorated Sugar Cookies, French Macarons & Chocolate-covered Oreos & Peanut Butter Ritz,

* Cupcake Flower Bouquets, 

* Cupcake Kabobs & Cupcake Cakes,

* Wedding Cakes, Cupcake Towers & Edible Favors

We serve the Northern Virginia &  Washington DC Metro Area, including Washington DC, Fairfax, Chantilly, Ashburn. Sterling, Leesburg and surrounding cities as well as the Shenandoah Valley, including Winchester/Stephens City/Berryville/Front Royal/Warren County/Warrenton areas.
 cakes in winchester va, cakes in front royal, cakes in stephens city, cupcakes in winchester va, cupcakes in front royal, cupcakes in stephens city, cake pops in winchester va, cake pops in stephens city, cake pops in front royal, middletown, custom cakes, custom cupcakes, dessert buffet, displays, cupcake towers, wedding cupcakes, wedding favors