Lime Green, White & Black Zebra stripe cake with all edible handmade decoration!
Nautical Sailor Baby Shower Cake with all edible handmade decoration 
  Grey & Yellow Chevron Gender Reveal cake with Pink Velvet cake inside to reveal it's a girl!
Stiletto High Heel cupcakes for a girl who loves fashion, shoes and glitter & sparkle!  
 Lego-themed Cupcakes with edible handmade Lego bricks
 Starbucks Cupcakes! Flavors include Caramel Macchiato, Pumpkin Spice Latte & Red Velvet - Can be customized to your favorite drink flavor!
 Chocolate Mudslide Dessert Cake! 4 layers of chocolate cake filled with 3 layers of Vanilla-Oreo-Chocolate Ganache filling, with crushed Oreos on the sides, topped with whipped cream, chocolate chips & drizzled with more ganache!
Tiramisu Dessert Cake - 6 layers of espresso-infused mocha cake layered with mocha-mascarpone buttercream and chocolate shavings finished with triple swirls of vanilla, chocolate & mocha buttercream and topped with grated white chocolate and milk chocolate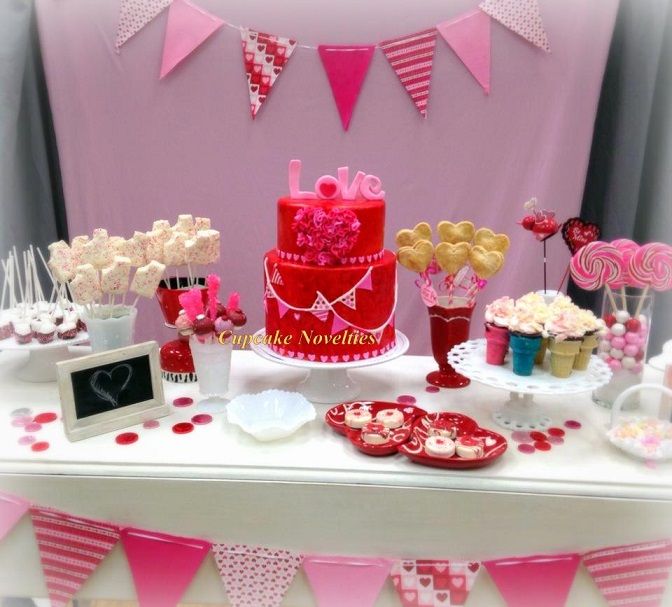 Sweet Shoppe-themed Valentine's Day Dessert Table! Goodies include Cake, Ice Cream Cone Cupcakes, Cake Pops, Pie Pops, Rice Krispie Treats 'Popsicles', Chocolate-dipped Marshmallows & Chocolate-covered Oreos!
My Little Pony Birthday Cake - all edible handmade decoration except the ponies. This cake had over 80 hand-cut flowers and has a 7-layer rainbow cake inside each tier! 
Shirt & Tie birthday cake surrounded by sports-themed cake truffles (Basketball, Baseball & Soccer ball) Lemon cake with lemon curd filling & vanilla buttercream 
A closed Bible book & Rosary cake made for a budding pastor graduating in Theology - Vanilla cake with Strawberry cream filling and all edible handmade decoration 
Cupcake Novelties makes delicious custom cakes & cupcakes for all occasions. Beautiful swirls, realistic flowers, simple designs or 3-d figurines, we can customize and personalize the cake for any special occasion!
Choose your flavors and fillings from our menu or feel free to suggest your own. 
Custom cakes are priced starting from $4.75/serving, and the final price depends on the design & customization. 
Custom cupcakes are priced starting from $30/dozen +tax, and the final price depends on the decoration and design. Please contact us for a quote for your custom cakes & cupcakes!
We also make custom Cheesecakes for all occasions! 
Do take a look at our photo gallery for Custom Cakes! Also have a look on our Facebook page for more pictures - www.facebook.com/cupcakenovelties
Refer to the Cake Serving Guides to decide what size of cake you want to order. These Guides also come in handy when you are cutting and serving cake at your party.
Scroll down for more pictures! 
Whale and Sharks Birthday cake - all edible figures and decoration. Inside was Blue Velvet cake with Chocolate filling
Pregnant Belly Cake for a Baby Shower! 
Custom cupcakes for a green & brown plaid / lumberjack themed baby shower! 
All handmade edible decoration, including the plaid, baby booties, fondant babies wearing plaid diapers, footprints, onesies & bibs! 
Gender Reveal cupcakes with pink filling inside to reveal it's a girl! 
 Custom cake in pink & white for a Ballet Recital & First Communion celebration! All edible hand-sculpted decoration - Strawberry cake with vanilla buttercream filling & icing
  Bunch of Daffodils cake - all edible handmade daffodil flowers & decoration 
Yoga-themed Vegan Cake & Cupcakes with edible handmade hand-painted yoga chakras, peace signs, yin yang, sun & moon cupcake toppers, lotus flower & birthday message. Read more here !
Vanilla-Chocolate marble cake with chocolate ganache filling & icing topped with hand-crafted edible Poinsettias 
Monster Truck Cake with all edible handmade decoration! 
Party Bus
<a href="http://www.mypartyplanner.com/search/vendor/Carnival_Games/select_state.html" mce_href="http://www.mypartyplanner.com/search/vendor/Carnival_Games/select_state.html" id="mpp_award_231_01/17/2012_1832066" style="font-family: Verdana, Arial, Helvetica, sans-serif;font-size: 8px;color: #CCCCFF;line-height: 8px;text-transform: uppercase;text-decoration:none;white-space:nowrap;" title="Carnival Games" >Carnival Games</a>
<br><a href="http://www.mypartyplanner.com/search/vendor/Party_Bus/select_state.html" mce_href="http://www.mypartyplanner.com/search/vendor/Party_Bus/select_state.html" id="mpp_award_261_01/17/2012_1832066" style="font-family: Verdana, Arial, Helvetica, sans-serif;font-size: 8px;color: #CCCCFF;line-height: 8px;text-transform: uppercase;text-decoration:none;white-space:nowrap;" title="Party Bus" >Party Bus</a>
</div>